Comic strip cartoonist for hire on a holiday or a corporate party will necessarily amuse all your company. You had a desire to have fun and the artist who draws cartoons competently and quickly is required to you, involving thus all new both new wishing to draw and an own cartoon. If you plan party pictures cartoon for the future or the artist for entertaining work is required to you, to agree it is possible as well having written the letter on E-mail The artist Vladimir Dotsoev always at your service!
Drawing movie clip, about as artist draws a cartoon, it is brother of Vladimir Dotsoev, artis Vyacheslav Dotsoev. Artist draws subject cartoons and subject pictures, cool draws cartoons to corporate parties.
Usually, if the artist caricaturist draws a cartoon, behind it is going big сrowd wishing to look, as this medicine for laughter, its ridiculous majesty a cartoon is created. In the course of cartoon drawing. Observing constantly laugh loudly and cheerfully laugh playing a trick on the posing original to which already is not suffered to see in any way, testing difficult some minutes of patience that the artist and why all cheerfully laugh at the cheerful image there has drawn.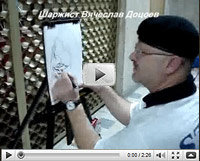 And here the moment of true at last has come and caricaturist shows, only, that the drawn cartoon, and WOW аt once there is a storm of ridiculous emotions, both the owner of a cartoon, and surrounding public who too with impatience waited for this heart-breaking moment from laughter, it was very interesting to all, as it will react on cheerful deformed, but thus the cheerful to original cheerful and cool image.
As a result at caricaturist the turn was formed of interested persons to pose at to see the unique and cool cartoon. caricaturist works almost without stopping to rest, as, from interested persons there is no release, but the artist it understands all both again and again draws, realising that it and is the originator of laughter and pleasure for associates. Caricaturist for hire, if at you cheerful corporate action you is planned can invite caricaturist to a holiday.
---
© I. Kazarin, 2006