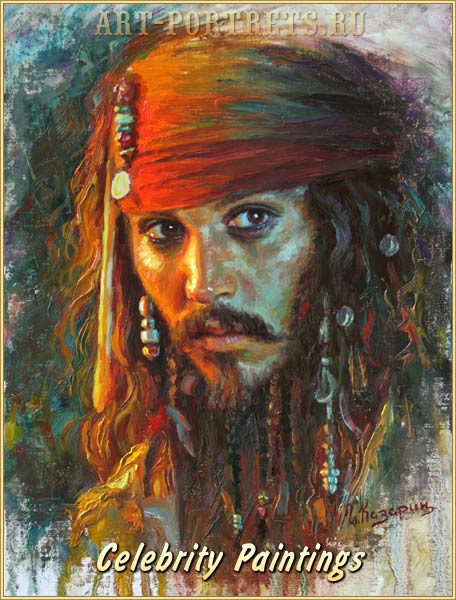 Dear visitor, you are now on the website of portrait artist Igor Kazarin. On this site I publish for you my drawing portraits from photos and my other creative works.
For many years I have gathered a whole online gallery of my portraits, which I painted on paper and oil on canvas according by your requests and of course my creative work, with which I constantly work on my spare time from any orders.
I always pay great attention to the quality of my work. A very important indicator for me is your attention to my creativity, it is a very important factor for me, which gives inspiration to my next task on your request. I really appreciate repeated orders from my fans, both in Russia and from different countries of the world.
You can commission a portrait painting or drawing from photograph in two art techniques: Oil Painting or in Dry Brush technique with DHL delivery to any country.
I drawing portraits live and from photographs for more than 29 years now, creating exceptionally realistic results.
Over the whole period artist i developed my own unique style. Recently i uploaded a few videos that show the painting process itself as well.
In addition to portraits painted by oil, I today continue to paint portraits from photo in a dry brush technique, thanks to the demand precisely in this drawing technique.
Recently, I began to receive orders from various countries of the world, most of the requests from America, Europe and the Middle East.
Most of the customers are young people attracted by short drawing periods and especially lower cost relative to oil on canvas, despite the fact that this style is still not simple, laborious and does not like mistakes and it takes effort to draw a beautiful portrait that should you necessarily like.
For many years, a huge number of portraits have been drawn since 1989, when I was a street artist and drawing mostly live portraits. Dry brush portraits have their own specific perception magic and, accordingly, many people always love to watch the work of the artist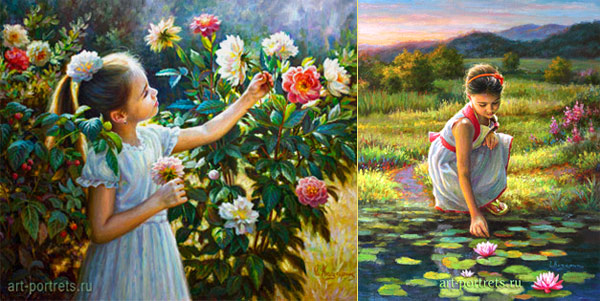 Painting portrait from photo. Compositions on the background of various summer views of nature, a blooming garden, in the country or in resort places.
Such works are one of the most interesting for an artist and when I get such commissions, it is very inspiring. Many details and elements of the landscape, I can think of something to change while painting the canvas.
Most of these compositions are my creative work. Of course, plot-based paintings of this kind are quite rare, rare orders. Many people make a commission just classic portraits, also family on a plain background.
Classical сommission painting in oil on canvas - this is every time my challenge and the next responsibility to the customer, but I always take a responsible attitude to my work, because it gives me permanent orders.
In my practice, I pay special attention to the creation and construction of a composition, the similarity and perception of a characteristic image of a person.
If you looked at my work and you liked my painting technique, and you have already decided on a choice and wish to order a portrait. The photographs prepared by you, from which I will draw a portrait in the future, can be sent to my contact E-mail for viewing