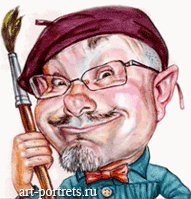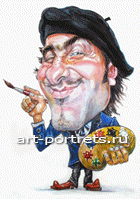 Dear friends, on a site art-portrets.ru it is possible to Look funny faces caricature drawings video, cool pencil drawing video as the artist draws caricatures to corporate holidays. Professional caricaturist draws such cartoons and not simply draws, but also cool amuses ridiculous conversations and cheerful jokes of the clients which are invited to fun.
As a rule round Vyacheslav usually public always gathers, to look at its creativity and many interested persons to pose are final and to listen to cheerful cool compliments of the master and much to laugh. Public observing of its work constantly laughs loudly, having heard, as Vyacheslav cool parodies George Milljara's voice, that is a voice of Woman Jagi, all would like to see a ready easy cartoon drawings drawn by Vyacheslav. And here the storm of emotions, the artist shows cool pencil drawing - funny faces cartoon drawings to owner, squall of laughter of observing public, an empty seat posing is distributed at once is engaged in the next interested person to have and the cool cartoon character. In the further on a site will appear also others drawing movie clips.
Perhaps you have already fully charged and the desire to want to place an order cartoon from pictures, I will draw a caricature for 2-3 days. And if you have a cool corporate party you can invite an artist caricaturist Vyacheslav Dotsoev, caricaturist for a holiday or a wedding.
Fast black and white cartoons and funny caricatures drawn on the guests of a corporate holiday for 5 minutes, very much a cool laugh and laughter is attracting more and more merry guests. If you urgently need caricaturist for your corporate party to draw funny cartoons and entertain guests, you can let me know on my e-mail. Work caricaturist at the festival and corporate party will raise all spirits!
---
---