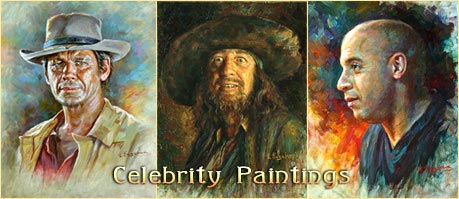 At the time of Gorbachev's perestroika, when the barriers were broken and various prohibitions stagnant of Soviet era, and opened a certain spirit of freedom and openness. At this time, many Russian street artists of Moscow began to gather in the famous Arbat street draw portraits for all comers.
Here live drawing by a dry brush technique, is just handy, thanks to its short execution time sketching, painting portraits took about 1 hour and sometimes less, for example live drawing portraits in pencil in a similar elaboration of the time occupied by at least 2-3 hours and sometimes more, so live drawing a dry brush has gained immense popularity and recognition among Russian street artists.
For many years famous street artists of Arbat, developed it, worked in the most extrwind, rain, snow, etc .. Methods of drawing dry brush among many free artists on the Arbat street was different, Artists rubbing paint mainly bristle brushes of different widths, even usually broad fleytsami, some masters of picking up special, expensive brushes, which differ from the hands of other artists sometimes
used a brush from hard synthetic materials. Each had its own unique method of working with this technique, some oil paint diluted with kerosene, eme weather conditions. Some gorgeous street artist in the early stages draw portraits in pencil, charcoal or pastels, too, later switched to a faster and increasingly popular method of portrait painting techniques on paper dry brush. If we assume that portrait is drawn from life, on average about an hour and a pencil portrait during the same time get a much rougher, that is, artist during this time can not catch all portrait details in pencil.
Based on the popularity of dry brush became dependent on short-time work, with its holistic completeness. So all russian street artists began to consider its more advanced painting techniques. Since very little is always willing to pose for artist on 1,5 - 2,5 hours, but children do have to contrive to draw even more quickly about 30-50 minutes and everything is sometimes not very comfortable weather conditions, and other lubricating oil for a good rubbing. Very popular among artists was the use of black paint to dry brush, it's Tiondigo, its warm, somewhat bluish tint, in the absence of this paint, other artists used other varieties of black oil paint.
Paper is typically used watercolor, because it has texture of a relief - from here all effect of dry brush, through use of watercolor paper - a dry brush portrait visually perceived more softly and evenly. The most common and preferred paper for many years was: German Torchon. Torchon which was produced in the former East Germany after unification of Germany and the demolition Germany Wall, East Germany ceased to existence and this paper was removed from production.
Currently used several kinds of watercolor paper: Italian Fabriano, paper type, Shell, in fact, surface of this paper resembles surface of shell eggs, watercolor paper with a surface resembling canvas as well as other types of paper all depends on taste of the creative artist. Arbat Street artists have made enormous contributions to the development and distribution of this amazing engineering drawing.
Ah, Arbat, my Arbat, you are my calling! - The spirit of Okudzhava poetry very close to each Arbat artist. Daylight Saving Time on the Arbat, as always a lot of work for portrait painters, especially July and August. At this time a lot of parade and guests, many want to be painted, and artists, of course happy to try. In those years began to come to Moscow, many foreigners, especially there were many young American students, crowds wandering along the Arbat, is just to find one or two have expressed their desire to paint her portrait, a moment later the entire group had already poses. Only hear Very Good, Very Nice!
In the late 80's to early 90-ies, some Arbat artists liked to draw on the island of Crimea, in Naberezshnaya Street in Yalta, in the midst of the holiday season. Many artists remember with affection a romantic time, Live drawing portrait and can go to swim and sunbathe, have a meal in a summer restaurant and then back to work. Also, as in Arbat portraits Dry brush technique quickly gained its popularity among guests, among whom there were many foreigners. Behind artist is usually a crowd of people. As soon as artist finished his portrait, immediately place was occupied by other interested persons. Thus within a day artists without straightening drew an average of 10 - 12 portraits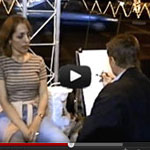 Dry brush technique in Dubai was a novelty for everyone, unlike Europe, the Arab Emirates, in this case in Dubai on this technique did not know none of the Arab street artists, who are just as we got an invitation to the festival.
Seeing our samples of live drawing portraits, they simply did not believe that it is hand drawing work.
Their portraits are painted mostly in pencil and charcoal.Seeing as we do in this technique, some Arab artists are very interested in it, wanting to learn, as quickly as possible, this method of live drawing portraits, especially because they noticed that most people want a dry brush portrait, and very few want his portrait in charcoal or pencil.
In this technique, During work at the festival we had a lot of work, There were so many people wanting to have my drawing in this technique as portraits from life and portraits from photos. This wonderful technique is very pleased both by the Arabs and other visitors of Dubai.
Dry brush painting is recognized by many artists in all civilized world,
popularity and demand for it constantly increases and grows every day.
I'm sorry for my english, if you find incorrect descriptions on my site and wish to correct, please message me to my portret7@gmail.com
---
© I. Kazarin, 2006