---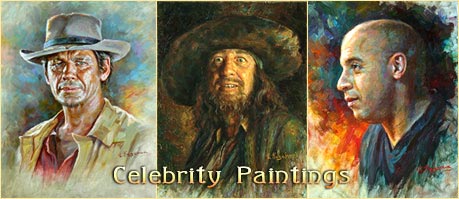 The page shows Dru brush portrait view as slideshow with audio of beautiful girls, drawn by artist Igor Kazarin. Draw beautiful girls is certainly a dream for any portrait artist, for my practice drawing girls they were drawn the most, i can say that portraits of beautiful girls is the greatest part of my job.
In this slideshow among most pretty girls are examples of portraits of famous female beauties, such as the infamous singer Britney Spears, two portraits of beautiful woman - Hollywood actress Monica Bellucci, the first portrait of a young Monica, 2 nd modern version, the extraordinary beauty top model Josie Maran, two portraits of charming argentin top model Valeria Mazza, beloved by many Russians argentin actress, beautiful Natalia Oreiro. It is no secret that my portraits in dry brush technique really like girls and that is very often notices men, who often my frequent customers.
Portrait it is a gift for birthday, or just for no reason is an unexpected gift, a gesture much attention by men in love. Usually the girl from such a mark of attention came to the indescribable delight, and that's her picture adorns the wall of her apartment every day, she admires his gift, as a mirror, enjoying his appearance, drawn portraitist. In our time, the girls often give flowers, perfume or jewelry, but few people remember that beautiful girls can give the most heartfelt gift that is always in the attention of the nearest surrounding.
Draw pictures of beautiful girls with the intention to please their future owners of the primary task of any artist that has long experience in drawing portraits. If you liked the samples of my portraits in the slide show of beautiful girls and you wish to order a portrait of your beauty, from your photo, just let me know by e-mail.