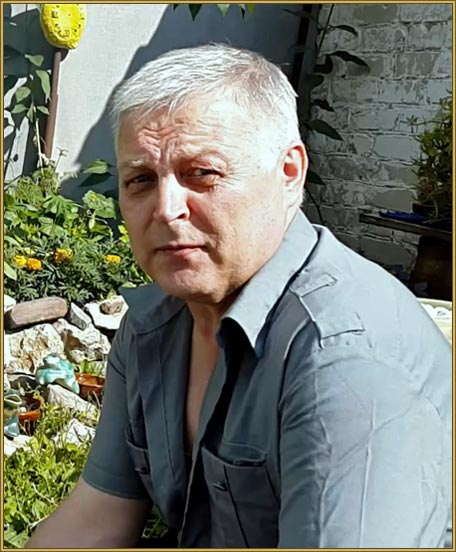 I am Russian artist Igor Kazarin, my vocation is traditional fine art, I started to draw since childhood.
Born in 1962 in Russia, the city Skopin, Ryazan region.
When I was about 15 years old took courses of watercolor painting in the city Skopin at the Palace of Culture. Some time I attended these courses, which gave me the opportunity of initial knowledge of painting. Official art education I did not received, so in my life, I am self-taught artist
Nevertheless, I have always been attracted to the artist's life and I painted a lot of portraits, landscapes and still lifes, many copied and invented my own compositions, I drew a lot of different sketches, painted from life my friends and family, given a lot of work. Most of all, I have always been attracted to portrait painting and graphics art.
After serving in the Army near Kiev in 1984, where I got some experience as a portrait artist, designer and draftsman, then i worked as artist designer at various enterprises of the Krasnoyarsk Territory and in the far north in Dudinka on the Taimyr Peninsula.
Of course the position of graphic designer, it was a necessary measure, and I do not like it in general, although I did pretty stands and business leaders was evaluated my job very well and they did not want to let me go to other enterprises, but somehow i was boring of it all.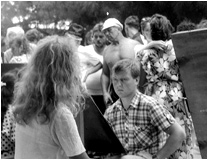 In the time of Gorbachev's perestroika in 1988, I saw street artists drawing portraits in St. Petersburg on Nevsky Prospect, then in Moscow on Arbat Street and the waterfront at Yalta in the Crimea.
I had the idea to try drawing my own portraits on the street, because it was a topic close to my spirit and to my vocation. And my life is free artist began in Yalta in 1988, I started drawing live portraits by pencil, it was a great help to my the financial condition at that difficult time.
Then in 1989 I moved to Moscow and on Arbat Street, I began to draw pencil portraits again, already at that time, I saw some artists painted portraits by dry brush. For me, dry brush technique was a novelty. For a while I continued to draw pencil portraits, but impressive entertainment and glamor of dry brush inspired me to try this technique of drawing and then i decided to start.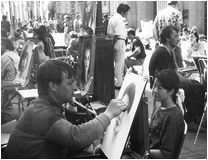 Over time, I learned to understand its subtleties and secrets of mastery and began to refine and improve this techniques of drawing, from my point of view. While working as street artist, I drew a huge amount of living portraits, besides the local population, was very much drawn portraits for foreigners. I even had to urgently teach English to communicate with them.
In 1996, i with my colleagues joined to the Professional Creative Union of Artists of Russia
In 2006 I created this website and gradually began to fill it with my work. I stopped going to work on Arbat Street, but perhaps sometimes I do visit to my friends and colleagues.
In 2009, I created a youtube channel "PortraitDrawing" to show my work for everyone and to potential customers. Honestly I did not expect that there will be millions of views. After I began to receive more orders for portraits not only from Russia but from time to time from around the world. In recent times, I do not shoot on video, for that, I apologize to my many subscribers, because I am always busy with my numerous portrait commissions, and of course I began to a lot of time to allocate in creative work.
In the last 10 years i become pay more attention to oil portraits, because oil on canvas on Arbat Street were rare orders, as well as the lion's share of my practice has been associated mostly with black and white portraits by dry brush. This fact I decided must be changed, and needed time to catch up and improve myself, every day I do my best and diligently continue to develop my ability. Creating art has become one of the biggest joys of my life.
I'm sorry for my english, if you find incorrect descriptions
and wish to correct, please message me
portret7@gmail.com
---