The theme of plot portraits in nature is very entertaining and interesting, and from time to time I come back to it when there is a great desire to paint something in this style. If your desire coincides with mine in this direction and you are want a commission portrait oil on canvas from your photographs, by the artist Igor Kazarin, I will only be glad.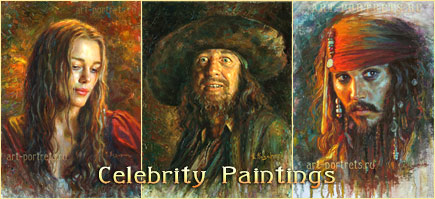 As for the sizes, I draw similar compositions starting from 50 by 60 cm and up to 120 by 80 cm, of course, it all depends on the spaciousness of your room and the free space on the wall.
Someone decorates children's rooms with such paintings in a beautiful frame, others in the halls and recreation rooms. Usually your photos are well suited, where the children are passionate about something, and the girls do not pose strictly for the camera, this is certainly desirable.
The background of the composition, I can come up with completely different in the process of writing, various types of landscape, garden or sea beach.
Usually, on average, it takes 4-6 weeks in terms of time, more extensive work is 6-8 weeks and without any rush, so it's better to contact the artist with this task as early as possible.
Based on my practice, most of all, of course, I painted simple classical portraits and much less often I had requests for compositions of a similar plan. I am certainly an optimist and I think everything will be corrected in the future and the artists will be fully occupied with this very topic. And today I draw a lot for myself, because I like it, thereby taking up my free time from different orders, of a different plan.
Painting with various summer scenes in blooming gardens, where the main characters are children or girls, this is a great decoration for your home.
CathleenTarawhiti
Iraklis Makrygiannakis
xeneras.deviantart.com
I'm sorry for my english, if you find incorrect descriptions on my site
and wish to correct, please message me to my portret7@gmail.com
---