This page presents romantic Russian landscape paintings for sale, by artist Igor Kazarin. If you like the style of these paintings of nature, they can be ordered from Igor Kazarin.
Russian summer landscape at sunset, oil on canvas. Summer sunset landscape kind of a rural landscape with church on a decline of the last day. There has come late summer evening, the peal pacifying local vicinities recently was still audible, the silent, quiet river, divides the near and far plan of Russian landscape which so is close to our heart.
The sea landscape in which image reveals divine sea beauty and force of the wild nature. The kind of the sea in any weather always is fine, even during a bad weather where congestions of thunderclouds terribly approach, the gusty wind starts to inflate sails of the ship.
The image of the sea during a bad weather, always bewitches the boundless water colour and dramatic nature of an approaching elements. Painting the sea is elements of contrasts of the natural nature, possessing attractive effect of perception.
Country summer pond landscape, lyrics to there's the wonder of sunset at evening. Evening landscape the image of the nature of Russian surburbs. There has come evening, the sun approaches a decline. Country summer pond landscape of a decline this romantic time when it is possible to dream enjoying a kind of the nature.
Autumn picture lyrics, Picture a mellow autumn - the image of an autumn landscape when Autumn gold maple tree grove during a gold leaf fall. Landscapes of autumn during this short, quickly current time, especially sated copper-gold, autumn furniture which pleases an eye. In the foreground of a picture three birches between which in the different parties the autumn footpath runs important cost. Autumn picture lyrics this time has just passed an autumn rain which, has wetted sad trees, having strengthened color contrast and without that bright, yellow autumn gold maple tree.
Not a complete copy of painted reproductions of Shishkin Forest before a thunderstorm in 1990, the size of 25 cm by 35 cm in the 90 years I am very fond of painting landscapes of small size, that is, for the most part it was a miniature. Because of the Shishkin I always liked, so i often had a desire to copies of famous paintings the free hand or say without hundred percent accuracy. Such a landscape Forest before a thunderstorm I drew for 5 - 6 hours
Seascape, sea decline landscape beach the burning sea on a sunset, a fine romantic sea kind sung by many artists and Poets. Landscape the sea on a sunset, a fine romantic sea kind sung by many artists. The Is quiet-pacifying sea at a decline, the painted boundless water space in scarlet tone of the coming sun.
The decline by the black sea the incomparable show, the rolled up sun plays a role of the main natural artist, is masterful painting colours of evening paints, the boundless burning sea space, drawing a pensive sight. Easy transparent waves rolled coast again slip back, their gentle calming rustle emphasizing a beat of the sea is felt.
Oil painting of the sea, End of the storm, Landscape oil canvas the sea after a storm are got absolutely with other colour. Coastal raging sea waves mixed with sand are set with the soft, warm shade. Recently has passed a small storm with a torrential rain, thunderclouds have dissipated, the moon through plumose clouds safely shines sea space the Classical sea plot with the ship which here here will beat to coast
Landscape with Church. Summer, but this is the end of August, still warm season, decorated with a beautiful sunset. Wooden church on the banks of the river at sunset gives the landscape a relaxing view, close to the spirit of the Russian people.
Beautiful sunset in the summer, coloring their orange-red shades green foliage of trees and grass. To the theme of the landscape with the church addressed by many artists at all times, and it's no wonder every village you can see the beautiful village church, which always stands out from the dilapidated little houses. Church in the landscape looks very attractive for visual perception, the motive for tuning human Spiritual harmony and tranquility.
The perfect autumn leaves oil. Unusual paints of autumn, Autumn leaves oil can always decorate any gallery of landscapes. In the foreground of a picture three maple trees, half fallen down leaves of a maple have settled down. There has come a season of an falling leaves in autumn. Autumn leaves a thick layer the bright colors which have laid all glade of sad autumn time. The golden mean at this time prospers dawn, The perfect autumn leaves oil always rich is red - yellowish paints of autumn
Autumn it is time falling leafs eyes of charm, Autumn landscape always associate at artists of landscape writers with pictures about autumn. In the foreground of the picture, dried up, slightly covered by an outgrowth of a mould the stub adjoining to a bush covered brightly red autumn falling leafs which give to an autumn picture special colour on a background of a lonely birch. The autumn time was loved at all times by Russian poets and artists, describing it in the products and cloths.
What is a landscape? (paysage countryside - French.) It is a beautiful painting, often oil on canvas, in which a local, natural environment is depicted - specifically nature (rural, urban, marine, architecture, mountain views , fields, forests, and rivers). Russian artists painting landscapes depict native surroundings stretching under the blue, cloudy sky, in all seasons. Landscape art has existed for centuries.
Russian landscape paintings always attract nature lovers. For example seascape paintings, which attract viewers with their vast expanses of water, especially beautiful and dramatic scenery with bulky, transparent sea waves and swirling foam at the shore in a raging storm sea, where gusty winds tear sails from ships. The lyricism in seascapes of marine sailing ships in bad weather is always attractive to see, for example a very beautiful seascape painting, which shows a sunset over the sea with light translucent waves after a light wind.
Many people are attracted to paintings of autumn, that is, an autumnal landscape, where the colors of the season constantly surprise us.  In bright tones, trees shed their colorful foliage, carpeting a glade with a yellow orange blanket, or the motive of a wet forest after rain, or a warm, summer evening at sunset, is a very picturesque landscape plot - a style especially popular with many artists is a rural landscape with shabby little thatched cottages and an old church. Throughout time, landscape artists have tried to capture the poetry of their surrounding area, which has always fascinated people.
Landscape paintings, drawings and pictures of Russian nature always relax people, and create a pleasant atmosphere. In landscapes, artists skillfully reflect natural shades, applying paint to canvas subtly and carefully, sometimes with rich strokes, gradually revealing all this beauty on canvas, creating an experience of the joy and beauty of mother nature, and a feeling of freshness and space with a special, emotional mood.
Russian landscape painting is usually characterized by a clarity of composition, scale and simplicity. The main idea of landscape painting is to reflect the space of nature, its grandeur and epic calm and visual sense of beauty. Many masters of landscape painting chose themes when nature is in transition; for a short time the light changes, the sun is hidden behind thick clouds majestically soaring high in the sky, the sun's rays pass through the clouds creating changing shadows. On the horizon a yellowed August wheat field surrounded by bright green grass, a light haze clouding the horizon. Distant and proximate perspective is merged into a single surrounding space.
Russian artists prefer Russian landscapes as the most romantic pattern, beautiful views which have always fascinated human attitudes . Beautiful landscapes of our entire society give comfort and pleasure. Summer landscapes on the river during the evening sunset always gives the viewer peace of mind. Sunsets are a favorite subject of many landscape artists. 
In the 19th century, many Russian artists adopted a passion for painting pictures of nature. Among these there are several landscape artists such as Shishkin, Ivan Aivazovsky, A. Savrasov F. Vasilyev plus many, many others.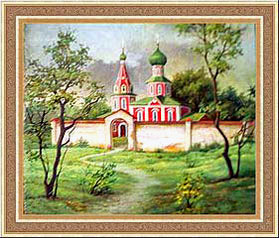 It was in the 19th century that many landscape masterpieces were created. Artists often made sketches on location of various exotic places in all seasons.
To create a complete picture, the artist had to paint many landscape sketches in pencil, and penetrate every blade of grass illuminated by the sun, bush, foliage and many different elements. For example Aivazovsky had a great observational memory, many of his seascapes he did not paint from life, especially the paintings featuring sea storms, where the waves roll on shore during the evening sunset - it is impossible to paint this from life.
Shishkin drew a lot of forest landscapes in pencil, and in this he has no equal. A. Savrasov was one of the first to show in his landscapes dirty Russian country roads blurred by rain, the romanticism of wet fields, even gray spring days in his landscapes look lovely. F. Vasilyev lived a very short life, but created a lot of beautiful scenery that made viewer empathize with them when they saw the beauty of mother nature.
  Nowadays, many artists try to capture a realistic landscape, the peak of which flourished in the 19th century. By creating realistic landscapes contemporary artists inspire our society to love and cherish the native nature.
I'm sorry for my english, if you find incorrect descriptions on my site and wish to correct, please message me to my portret7@gmail.com
---
© I. Kazarin, 2006