On this page i presents my Drawing Videos by Dry Brush. In 2009, a Youtube channel was created (PortraitDrawing) by Igor Kazarin, where I decided to show a brief process of my work.
I created these for clarity and understanding of my work, that is, filming the work process, the goal was not in the form of training, just a demonstration no more. Today it is over 19 million views. I did not expect such a scale.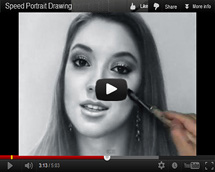 Many visitors of my site and the YouTube channel constantly ask me when there will be a new publication?
Of course, I apologize to my subscribers, and all interested fans. I didn't have a goal of constantly doing this, that is, filming my work on camera, with the exception of rare orders from private individuals. From time to time, I have thoughts about shooting, but somehow, my hands do not reach this point, this is a very troublesome and responsible matter, it takes me about a couple of weeks. And another reason, constantly busy, I draw portraits for many customers who find me on the Internet.
Biggest views: Britney Spears, Emma Watson, Johnny Depp. One drawing took about 3-5 hours. After the spread of the YouTube videos, many of the Chinese comrades have placed them on the Chinese hosting Youku, 56.com and other.
Recently, many people often ask me, For example, I liked the video with Emma Watson, can you do something like this for my girlfriend ?, yes it's possible, usually it's a black and white portrait, starting with a clean sheet, working with the proportions in pencil, drawing with brushes and an eraser. And as a result, about 3-4 minutes HD movie with your favorite music track.
if you find incorrect descriptions on my site and wish to correct, please message me to my
portret7@gmail.com
---