From time to time I like to paint various fruits, the most striking in my opinion are, most often, grapes, peaches, plums and pears. You may also like similar compositions, you would like for your home Still life fruits painting by artist Igor Kazarin or buy ready-made ones that I have in my collection.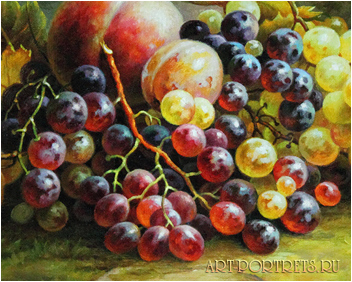 Once upon a time I was deeply involved in this topic from the beginning of the 90s and sold them on opening days.
Of course, I liked the Dutch style the most, with its small size. I was fascinated and looked at such canvases in museums or galleries for a long time and I was very attracted to the finely prescribed fruits, with their colorful colors and nice looking shades, glare, all this fascinated.
At the beginning, I simply copied some of the work for the training, then I composed a lot of my compositions and simply painted according to my imagination, using a pencil to draw grapes and peaches in a sketch on a canvas in a random order, then I corrected something, and improved and added volume.
Of course, I was not always pleased with the result, but my >customers really liked the work, and this, of course, inspired me. I tried to correct any errors in the previous ones, I worked and made new ones, more correct in my opinion, and all this was bought up again like pies.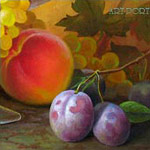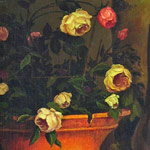 But how wonderful it is to see and feel when you see how everything comes to life in oil painting still life, all shades of color, glare, volume and the mysteriously quiet atmosphere itself pleases the eye.
For some reason, it so happened that many people want to buy a still life for the kitchen, in my opinion it's better for a room where you rest and relax and look at colorful fruits on which, somewhere, maybe a butterfly, a fly or some bird and you distract from everything outsider. What objects can be painted in a still life, personally I like fruits, sometimes flowers.
Many artists draw recently caught fish, all hunter prey brought from hunting. You can not do without any other items here vases, plates, wine glasses, trays of glass and porcelain or non-ferrous metal and various household items from everyday life. You can also often see butterflies, birds and various insects in a still life, this adds charm to the whole composition.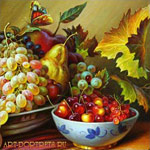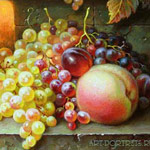 It would seem that a small bunch of fruits and expensive dishes cost nothing, but if any artist painted this work on canvas, correctly emphasizing the contents of the picture with very clear detail and color, everything would get a real price. Such still lifes with fruits, framed by a beautiful and expensive frame, were very much appreciated and bought mainly by fairly wealthy people. Of course, today you can buy from a modern artist and not very expensive, the main thing is that you like it.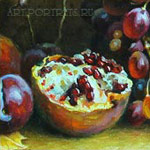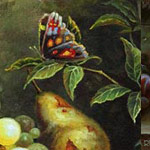 Sometimes the thought comes to draw something that is not familiar in our everyday life and here is a plot in which the fruit is not on the table, but in the meadow in the background of a gloomy landscape or with a beautiful sunset. Someone will say this does not happen, but in the picture please already have)))
For the future there are thoughts of something else to come up with, maybe I'll draw in the future, and you will definitely see.
And if you have thoughts in this direction, just let me know and we'll come up with something together.
I'm sorry for my english, if you find incorrect descriptions on my site and wish to correct, please message me to my portret7@gmail.com
---