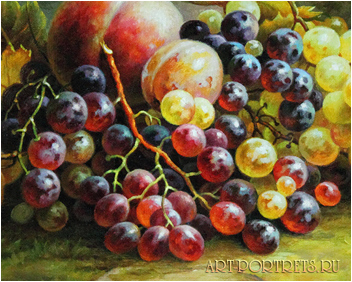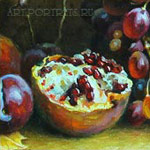 Still life with fruit painted by Igor Kazarin in 90 years. Still life with fruit is a very popular trend in the history of still life painting; yellowish oranges, peaches, plums, mixed with mature colorful grapes and vines with curly filaments and leaves complement the compositional direction of the entire picture.
In the tradition of Dutch still life paintings, interest is added to many works with a beautiful butterfly or a fly, realized so clearly that we feel we could reach out and touch the objects. The artist presents the viewer with various objects he has collected, carefully arranging them in a united composition with a main focus.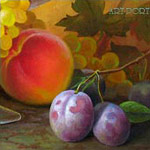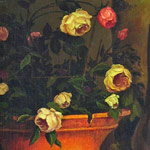 In still-life paintings of fruit, the composition is spread across the canvas, showing exotic fruits in a wealth of color, among, perhaps, a patch of light glass and metal utensils whose reflections play pleasantly with our visual perceptions. Thanks to the rich color scheme, light and contrast, the painting gradually comes to life when exposed to light, and becomes a luxury type of still life with fruits worthy of a position in your gallery.
Perfectly observed still lives depict baskets of fruits placed among vases in patchy light. The main task of the still life artist is to reveal the  material features of various subjects in deliberately set lighting conditions, choosing the most effective way to illuminate the scene.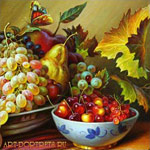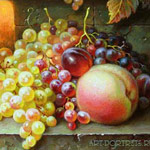 Due to the rich tones, colors come to life under light and a magnificent still life with fruits is revealed. Distinctive features of Dutch still-life are the small size, as traditionally, middle class people bought them as ornaments, sometimes prosperous peasants. Contents of a still-life were emphasized by an extremely precise, detailed depiction of the material world, the presentation of real forms, separate fragments of a picture very honestly and diligently realized.
Subjects in a still-life were designed to be perceived as luxurious and graceful, in quiet contemplation. This all corresponded to the refined tastes of the Dutch. Great value was given to compositional decisions, a manner of creating work with sufficient confidence of knowledge of the business, and love of the craft, bound by the patience and diligence that was a national feature of the Dutch artists. The main problem of the Dutch artists was: how to involve the spectator with the unusual beauty of a still-life, how to cultivate in viewers a feeling of fine perception, forcing them to think and reflect on the beauty of objects which were habitually mundane, everyday items.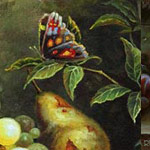 Since olden days, people have peered into the world of the subjects surrounding them, trying to solve the secrets of a world displayed gracefully on a canvas. Dutch artists have managed to realize all this beauty superbly, and to present the unusual creations and unsolved secrets of still life paintings to the entire world.
A still life expresses to people the world of fine things surrounding us, and the  gifts of mother nature.  Hand painted works of grapes with finely registered details are presented as subjects alongside a picturesque abundance of other exotic fruits, where falling light plays brilliantly across surfaces.
Glass vases and metal utensils give integrity, unite compositional construction, and give a unique, fantastic decorative effect to the image. A still life in a beautiful, decorative frame will adorn any apartment interior, or will serve you as an excellent gift.
Still Life with Parrot and Fruit painted in oil on canvas in 2013. Although. I usually paint portraits, sometimes there is a great desire to paint still lifes. As soon as the opportunity arises, and most importantly the desire to come to mind different variants, which were to be implemented. In this case, in the painting to me with new fragments are a parrot and grenades, which I never painted before. Of course a fruit basket, a standard set of grapes, peaches, plums and tangerines.
Fruit still life with a butterfly. More often than previously painted still life on the table, then appeared desire to create something different, well, that's what happened, what happened. Fruit Still Life on a forest clearing with a butterfly, someone would say this does not happen): Well, maybe not happens in reality, these stories can be seen in the paintings of some artists, including artists of past centuries. This Still life painted with a standard set of fruit, my favorite grapes. peach, plum and pear, for easy recovery paintings it was decided to add a lovely butterfly sitting on a branch
Oil paintings still life with fruit. The main task of the artist to open in a modern still-life that fine which in a usual life is not noticed. A fantastic kind of a picture of a still-life on a background of mountains at a sunset, similar oil paintings still life are written as a rule not from a nature, and on imagination of the artist.
Dutch stil life painting with fruit on a dark background written on a canvas. In a Dutch stil life painting various fruit peaches and grapes, plums and a sweet cherry and a greater pear are represented.
I'm sorry for my english, if you find incorrect descriptions on my site and wish to correct, please message me to my portret7@gmail.com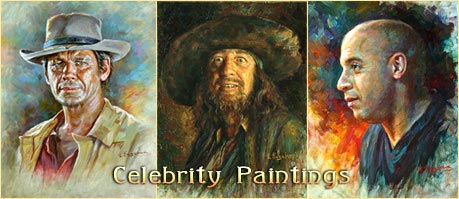 ---
© I. Kazarin, 2006