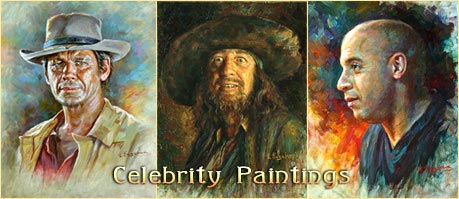 In any drawing technique there always are some drawing problems, independently you draw portrait with pencil or charcoal, watercolor or pastel and other techniques of drawing, and in dry brush technique, drawing problems has too. In this article, I describe some of them.
Dry brush technique seems very simple at first glance, but it is not, at the beginning, you may have some drawing problems, because, as some skill is required. If you choose to learn this technique, you still need to have some experience in drawing portraits with pencil, sanguine or charcoal. To understand its entire essence and hidden subtleties, practice and hard work, making 2-3 live portraits every day. Proper results show up only after years of productive work.
During working by dry brush technique there is always a lot of waving with your hands while rubbing the paintbrush, in the practice of drawing dry brush necessary to work with brushes of different size and widths, For example, biggest brushes "fleyts". While drawing this a heavy fleyts, you can quickly get tired, in my practice, I was drawing per day about 10-12 portraits and to the late evening, I was very tired from work

During working you must paint carefully - you can accidentally knock something, sending a blot of paint in portrait, which, if not removed instantly, often causes permanent damage. In such a case you must draw the whole portrait again, which is particularly unpleasant if you draw a pair or three persons, yes this is drawing problems by dry brush. The solution is certainly not a very simple, need some practice, which discipline work of portrait artist, so you need to paint with greater caution and absolutely utmost care.
You may have some drawing problems to paint color portraits, as colors are very limited in comparison to traditional oil portraits on canvas where the canvas can be repainted several times until you get the desired color. With dry brush technique you do not have that freedom: colors should be more or less correct immediately.
It is important in use of a good eraser to lighten parts of portrait, highlights, glare, hair, etc., sometimes very difficult to find a good eraser even in specialized stores and salons it is a great rarity, but erasers that are sold in stores are not always appropriate. The eraser gum must be soft and should not be completely solid.
For black and white portraits there is a certain type of paint called Tiondigo - this is a classic paint, which is popular among artists, but it's also very difficult to find. Strangely enough, its production was cancelled and on the black market it is very expensive 170-300$. This is certainly a a little drawing problem in by dry brush for beginning artists, this paint is no longer produced. However, you can use any other is not very fast drying paint
Problem with brushes, that quickly wear out due to constant grinding so it is necessary to buy new ones frequently, The solution is simple, do not buy very expensive brushes, price of brushes can be no more than 1-2 dollars
There is a some problem, it can also happen that there is no adequate watercolour paper in shop - which can be absent there for a long time. The solution is simple, always buy in a store in advance the required amount of paper
I often get a message that many have tried this technique, portraits get very dirty, and impossible to draw a portrait shadows very smoothly. This drawing problem is solved only with practice and a little attention to work that is not necessary to hurry to quickly finish the portrait. Also, not all understand the significance of the two words "Dry Brush" that is, in this technique is used very little oil paint, 2-3 drops of black paint for one portrait
The Dry Brush technique today is recognized by many freelancers throughout the civilized world, the popularity and demand keep growing and growing every day.
I'm sorry for my english, if you find incorrect descriptions on my site and wish to correct, please message me to my portret7@gmail.com
---
© I. Kazarin, 2006