Probably the best reminder of love or friendship, enshrined in years - this is of course a family portrait painted by the artist from the photographs you provided, stored in our time on hard drives, smartphones or in home albums.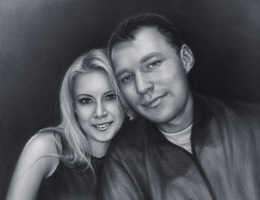 With such simple compositions, I draw on paper by Dry Brush technique with a size of 50 by 65 cm on watercolor paper, 4-6 days in time. For the most part, many people offer me separate photographs, also with different sizes of faces, and I have to combine the characters together in a pencil sketch.
I can say, most importantly, if the photos are different, then they should have been equal in the coverage of the faces, that is, the light falls on only one side on the faces in each photo, this is very important, otherwise I just won't get to work.
This Drawing hanging comfortably on your wall will always be the most noticeable object of attention of everyone around you in your house, which is filled with mutual understanding and consent.
---