---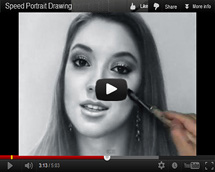 Each time, many youtubers write me letters with positive comments, that I decided to draw Blair Juicystar07.
I am a portrait painter, all my life I paint portraits of many girls, including girls of famous beauties like Blair. Constantly in search of the next model, I had accidentally wandered into the channel Juicystar07 and i was decided, that Blair will be my next portrait drawing.
Of course, you can tell me, why? Well, firstly it is very beautiful girl, and probably not only I noticed her , judging by the attendance of her channel. In the future, so maybe I'll draw another portrait in more free time.