Portraits in oil can be painted from different your photos, in various styles, for example, portrait on background of sea or on a different landscape background, portrait on background of a still life with fruit, or in an environment close to your heart.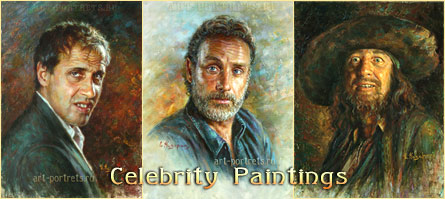 Your portrait may be unusual, different from other portraits - and it will be you conceived the unique option to surprise your friends and acquaintances. If you have conceived idea of such an unusual portrait in oil, and you wish an artist in a realistic manner painted portrait on canvas, simply email me.
In the 21 century modern art painting in oil on canvas gets new features, there is a rapid development of portraiture in art. Works by contemporary artists associated with the general cultural process in Russia. Draw a portrait of people in technique of oil painting is becoming more popular every year and holds a leading position in visual arts, among other trends in contemporary art and this is relevant, nothing is impossible to compare more significant than portrait of person, and it is very versatile and interesting way, pictured by an artist's brush. Finely painted man or Beautiful girl in oil of artist Igor Kazarin a continuation of traditions of realistic portraiture.
I'm sorry for my english, if you find incorrect descriptions on my site
and wish to correct, please message me to my portret7@gmail.com
The portrait of the grandfather and the grandson is written by an anniversary
---